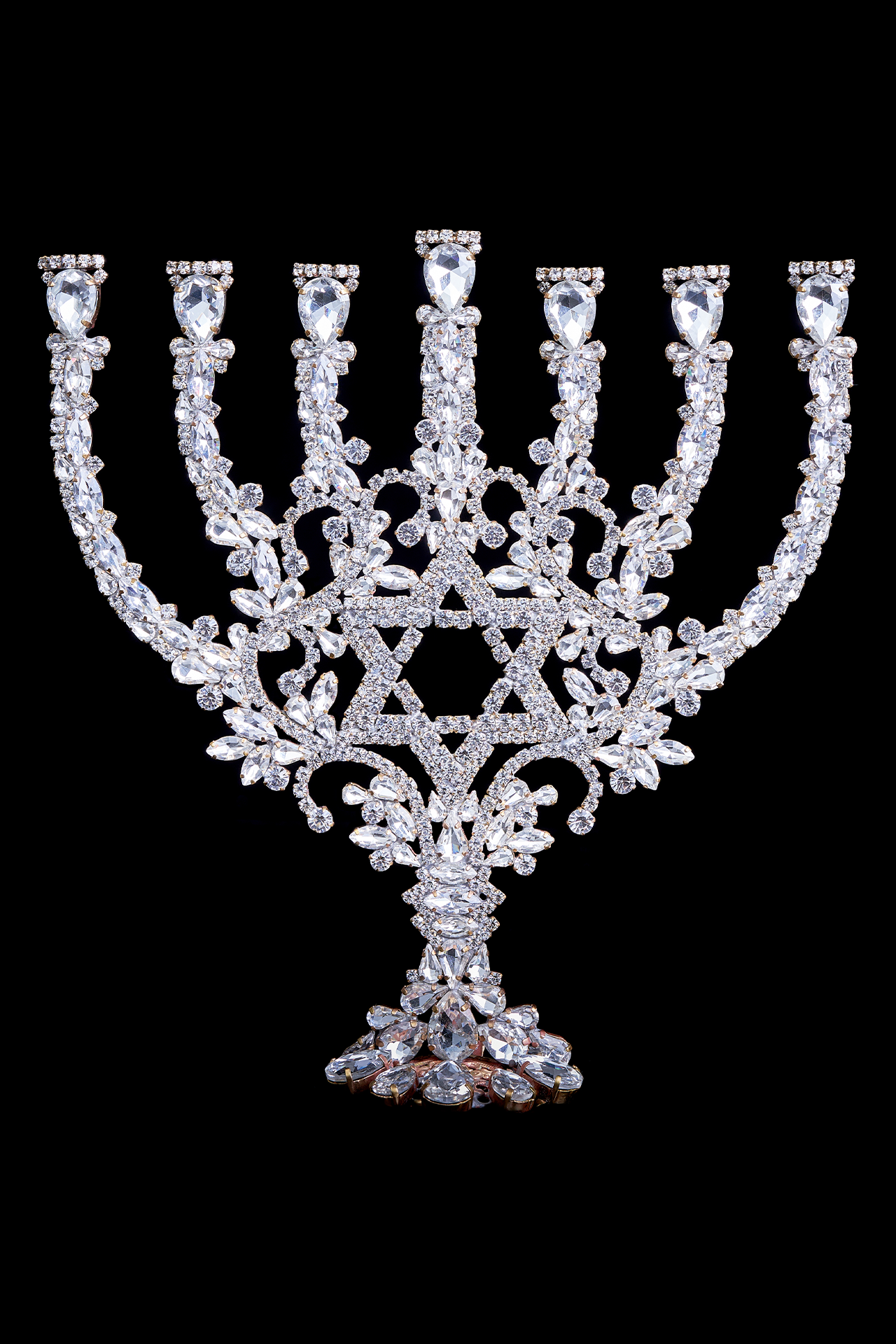 Dazzling rhinestone menorah
Dazzling Rhinestone Menorah
Stunning seven-branched menorah, a symbol of light and hope.
Product Code:
3171594162713
Dimensions:
20.00cm x 22.00cm x 6.00cm
Dimensions:
7.87in x 8.66in x 2.36in
Free USA DHL shipping max. to working 5 days (order up $100)
(According to real costs of DHL)

Worldwide premium delivery via DHL
(outside the US) max. to working 7 days for $20.00

Free worldwide shipping 2-30 days
The stunning seven-branched menorah, featured in designer Roman Matouse's latest collection, stands as a captivating symbol of light and hope.
Each piece is meticulously handcrafted by a dedicated family workshop, firmly rooted in the rich tradition of Czech jewelry craftsmanship.
This exquisite menorah embodies not only the elegance of its design but also the enduring spirit of heritage and culture. Its seven branches, beautifully adorned, represent the significance of the Festival of Lights, a symbol of unity and renewal.
With its impeccable craftsmanship and ties to the Czech jewelry school, this menorah serves as a timeless testament to tradition and artistry, bringing warmth and radiance to any setting."
LCJ-002-0039-0001
Materials: nonplated brass and rhinestones crystal´s.
We follow the spectacular craft bijoux history of our region. We use old handmade techniques and use only the finest material and best quality crystal's.
If there is an item that you are interested in but would like some changes made or something unique added, please do not hesitate to contact us. We are able to meet the demanding requirements of designs (figures up 1m high).
---
There are no reviews for this product. Be the first to write a review on this product.
Check the video for this product